Lasse Matthiessen on Danish television – "TV2 LORRY"
Lasse Matthiessen live interviewet on the Danish television channel TV2:
Se video via this link:
LASSE MATTHIESSEN INTERVIEWED on TV2 Lorry
——————
Interview on danish blogs "Wonders Make Joy" and "Lydtapet"
Wonders Make Joy: Read the interview here
Lydtapet: Read the interview here
——————
GREAT DANISH REVIEWS of "Dead Man Waltz" 
"Dead Man Waltz" was released in Denmark the 3rd of September and has received great media reviews and coverage. Read some of the reviews below (in Danish):
DISKANT 8/10 (read the review in Danish here)
"Lasse Matthiesen har begået et singer/songwriter-album på meget højt niveau. Kvalitetsmæssigt styrer han direkte mod toppen af de dygtigste i genren" Morten Wamsler, Diskant, 6.9.12
FYENS STIFTSTIDENDE 5/6 (read the review in Danish here)
"Der er tilsyneladende noget særligt i vandet i den tyske hovedstad, for præcis som Agnes Obel gjorde det i 2010, er det en på alle måder formfuldendt plade af international støbning, som Lasse Matthiessen nu sender hjem." Rune Moesgaard, Fyens Stiftstidende, 3.9.12
LYDTAPET 5/6 (read the review in Danish here)
"Når jeg hører Dead Man Waltz kan jeg sagtens forstå, hvorfor vores naboer lidt syd for Ribe har taget eksil-danskeren og hans musik til sig. Nu kan man bare håbe, at der også er plads til tænksom, melodisk musik her i landet også." Morten Nissen, Lydtapet, 3.9.12
GAFFA 4/6 (read the review in Danish here) 3.9.12
Wonders Make Joy (not reviewing in "Stars")
""Dead Man Waltz" er helstøbt og gennemtænkt – fra første til sidste nummer – og Lasse Matthiessen virker som en stilsikker musiker, som ved lige præcis hvem han er som kunstner, og hvad han vil med sin musik. Inderligheden er i højsædet, men på en underspillet måde – fremført i små historier og på en måde, som giver inderligheden en lethed over sig, og gør det nemmere for lytteren at indtage den."
Mia Storm, Wonders Make Joy, 15.9.12
——————
ROLLING STONE "Toller Däne" (Great Dane)
- Review of Lasse Matthiessen's "Dead Man Waltz" in Rolling Stones May 2012
A lot of good reviews have come from the German release of Lasse Matthiessen's second album "Dead Man Waltz" – here maybe the most importent from Rolling Stones in the May issue 2012:
 "Schwarzweiße Akustikgitarrenlieder mit leise verhuschten Trommeln und verwehten Xylofonen, aber auch schunkelnden Folk-Songs wie von Dylan und summende Lullabys wie von Drake: Toller Däne!"
Rolling Stones, May 2012
——————
"This City" from a rooftop in Hamburg
Recorded in May on a rooftop in Hamburg close to the Reberbahn:
——————
"In the Dead of the Night on DR's P4
First single from Lasse Matthiessen's album "DEAD MAN WALTZ" (release date in Denmark September 9.) "In the Dead of the Night" on Danish Radio's P4!
——————
Lasse Matthiessen on German release tour!
10 concerts and 6 radio concert shows played – Lasse and his band played Radio Eins (Berlin), Radio Fritz (Berlin), Radio Mephisto (Leipzig), Radio Detektor (Leipzig), Radio X (Frankfurt a.M.) & Radio Byte.fm (Hamburg).
——————
Danish Music Magazine GAFFA about Lasse Matthiessen:  "Unknown Danish singer-songwriter experiences success in Germany" (In Danish)
——————
NEW VIDEO FROM LASSE MATTHIESSEN: CELLULUOID
——————
SONGS FROM DEAD MAN WALTZ IN GERMAN "FORBIDDEN LOVE" …again
Dragons Fly, In the Dead of the Night, Celluloid and This Time of Year will appear in the German national ARD-Channel series Forbidden Love (Verbotene Liebe) in April. Look up the episodes – theyøll soon be there:
4058 Dragons Fly
4062 In the dead of the night
4068 Celluloid
4069 This Time of Year
Click here for the officiel website of Forbidden Love 
—————-
Counting down to Lasse Matthiessen's German release with videos – here is the making of the vide Celluloid:
—————-
Lasse Matthiessen – release of DEAD MAN WALTZ in Germany, Austria & Switzerland April 27 2012.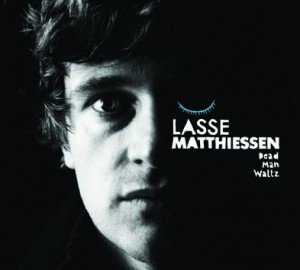 April 30 - Zum Scheuen Reh, COLOGNE / KÖLN (DE)
May 2 - Hasenschaukel, HAMBURG (DE) (info)
May 3 - Schokoladen, BERLIN (DE) (info to come) RELEASE PARTY
May 4 - Horns Erben, LEIPZIG (DE) (info)
May 5 - Drei Königkeller, Frankfurt am Main (DE) (info to come)
May 6 - TBA, Frankfurt am Main (DE) (info to come)
May 8 - Stage Club, HAMBURG (DE) (info to come)
May 9 - Prinz Willy, KIEL (DE) (info)
June 1 - Gepard 14, BERN (CH) (info)
June 28 -  "Song & Void", GRAZ (AU) (info to come)
Juli 5 - Le Pop In, PARIS (FR) (info)
———–
Lasse Matthiessen's This Time of Year on German national television series (ARD) "Verbotene Liebe" (Forbidden Love):